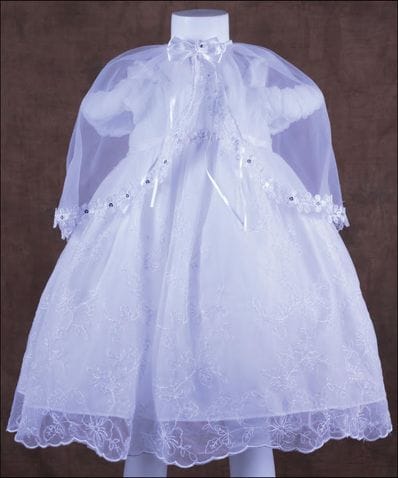 White Off-Shoulder Sleeve Princess Baptism Gown
Available in white, sizes ranging from 6m to 12m.
This beautiful fairytale dress is perfect for any special occasion, such as a baptism or a christening. It features an elegant mesh floral embroidery overlay, followed by a satin floral sash. It is a long dress with matching embroidery on the bonnet. Followed by a white organza cap with floral embroidery and sequins on the side, highlighted by a bow pinned in the middle. In addition, it has a layer of crinoline and a lining within. The dress has a zipper closure and a tie-back sash. It is made of 100% polyester and should be dry cleaned only. This design comes from Blessings by Jolene.