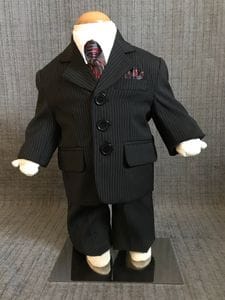 Black Pinstripe Infant Suit
Product Price: $79.99
Item Code: 3005-IBp
Available in sizes ranging from 6m to 24m.
This 5-piece suit includes the jacket, vest, shirt, pants, a red tie and a matching pocket square. It is great for weddings, dinners, church and more. This suit is 100% polyester with a 35% cotton and 65% polyester white dress shirt. Perfect to wear for babies. Also available in black, dark grey, and navy. Produce by Kids Mode.

*Pants are hemmed at the bottom. *Pocket square is removable.